The world of acrylic inks is vibrant and versatile. The range of ultra-fluid pure permanent colour offers limitless opportunities for artists. The bold shades and endless ways to use acrylic inks means they're a thrill for any artist to create with.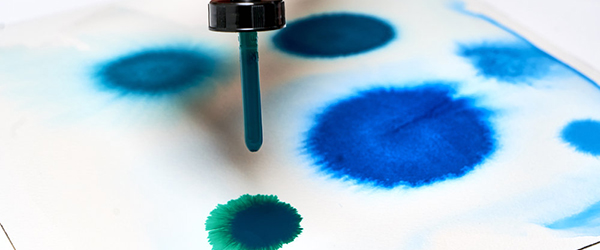 What are acrylic inks?
Our Liquitex acrylic inks are a low viscosity acrylic made with finely milled artist-quality pigments instead of dyes. This means they offer fine dispersion, great color development, strength and brightness. No dyes means pure colours and archival stability so non fading!
Can you tell us more about the colours?
With our Liquitex acrylic inks you're spoilt for choice when it comes to colours! The range of brilliant colours are a natural expression of pigment so the opacity of the ink depends on the unique characteristic of the particular pigment. Therefore, among the bold colours you'll find a selection of opaque, semi-opaque and transparent colours.
How can acrylic inks be used?
One of the best things about acrylic inks is their versatility. They're perfect to use straight out of the bottle in any way you desire. Airbrushing? Pouring? Pen & Ink? Acrylic ink is great for them all. Their low viscosity colour and ultra-fluid formula is great for fine and flowing applications and techniques, from working with resin to sheer washes of colour. Perfect for those who like to experiment with different effects!
Tip: You can even add mediums to adjust acrylic inks further.
What makes them different to regular inks?
They have a water-resistance and permanence which is not seen in regular inks. They're acrylic – this means the ink dries quickly and doesn't move once dry. Artists can over-paint without bleeding and achieve multi-layered, velvety surface effects with no smudging.
Liquitex acrylic inks also have an archival quality which means your work will stay as you intended. The pigments used have passed extensive tests for lightfastness so they have the greatest archival permanence possible – with no color shifting or fading, to stay vibrant and true.
What surfaces can acrylic inks be used on?
The advice from the makers is "if it sticks, you can use it". You can experiment with acrylic inks on stretched canvas, paper & board, wood, plaster and even fabric.
Whether you're creating colour pours, wet effects or experimenting with mixed media acrylic inks offer a bright selection of possibilities. Discover our full range of acrylic ink colours & sets in-store or online!
We'd love to see what you create with our acrylic inks – tag us on Instagram @veegeebeeart 🎨
---