Feel the magic of nature in your home with Dulux Colour of the Year 2023. A glowing and uplifting tone, Dulux Colour of the Year 2023, Wild WonderTM, makes us feel connected with nature.
Join us as we discover how the Colour of the Year 2023 was selected and how we can combine this intriguing colour with trend-led shades to transform every room.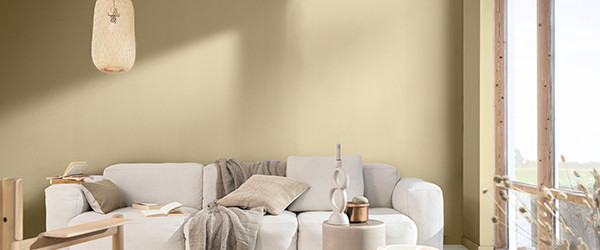 Every year, Dulux's team of international design experts find a colour that matches the mood of the moment. For 2023, with the natural world at the top of the global agenda, Dulux's design team focussed on the different ways that nature supports and inspires us. In fact, the theme for Dulux Colour of the Year 2023 is – seeds of wonder – a phrase that encapsulates the transformative power of nature.
Wild WonderTM is a glowing natural tone that offers us a connection with nature and that brings a sense of natural magic into our homes. Around it, Dulux have created four easy-to-use colour palettes: Lush, Buzz, Raw and Flow. Each tells a unique story of the various ways nature inspires us.
Let's take a look to see how the colour Wild WonderTM can uplift your spaces.
Bring softness to a kitchen
Connecting with nature makes us feel better, and the soothing forest tones in the Dulux Lush palette can create an atmosphere of rootedness and support. Here, a combination of soft green and Wild WonderTM brings warmth and softness to a kitchen space.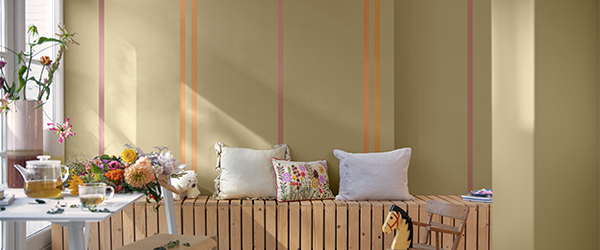 Create a joyful family space  
The vibrant shades in the Dulux Buzz palette celebrate the biodiversity of a wildflower field. Here they add a splash of bright color to a wall painted in the Colour of the Year 2023, Wild WonderTM, creating a joyful family space that feels playful and invigorating.
Create a welcoming bedroom
Reminding us of the wealth of natural materials around us, Dulux's Raw palette is warm and enriching. Here, a soft brown is combined with Dulux Colour of the Year 2023, Wild WonderTM, to create a bedroom space that feels comfortable and cocooning.
Bring balance to a nursery
The Dulux Flow palette is all about bringing balance to the home. This two-tone effect mixes soft blue with Wild WonderTM to create a look that's fun but not overpowering – perfect for a child's nursery.
Get in touch with us to get more ideas and inspiration on how to incorporate Wild WonderTM into your home or order your sample pot to try the colour in your space. 
---